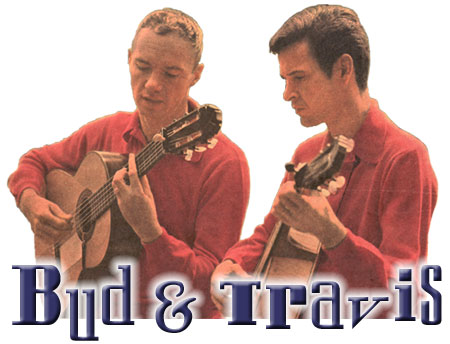 See B&T perform "Bonsoir Dame" & "Raspberries, Strawberries" on "The M-Squad" TV Show! (with Lee Marvin, James Coburn, and in this episode, Leanord Nimoy!)
"Lost" Bud and Travis concert from the Hollywood Bowl now available! WOW!!

Click the "Play" button below:



Bud & Travis: Live @ The Hollywood Bowl, 1965

Set List: Gimme Some, South Coast, No Me Quieras Tanto, They Call The Wind Mariah, It Was A Very Good Year, How Long How Long Blues, Cielito Lindo Son Juasteco, Cloudy Summer Afternoon, Alma Llanera, Abilene, La Bamba.

Go here to actually download the concert: http://newstalgia.crooksandliars.com/tags/bud-travis. There is an option to download a full-length MP3 of the concert, so be sure to do this download before the show goes away! The concert has been re-presented on www.travisedmonson.com for the past several weeks, but it is chopped up and presented a section at a time on different pages. To grab the entire MP3 file, go to Newstalgia.


"Bud and Travis were the best. No one of their ilk could even touch them. When they got on stage and did their thing, there was nothing like it. Wonderful."
--Erik Darling, The Weavers
The photo on this main page is courtesy of Travis Edmonson, Rosemarie Heidrick, and the Arizona Republic. The photo in the top left corner of every sub-page, along with the photo on the "Introduction" page, are all courtesy of Michael Ochs Archives, Venice, CA.
This site is a labor of love for Thomas P. Straw of Pittsburgh, PA.
Contact Me!
When you're done visiting here, be sure to visit the new and improved Kingston Trio web site!
Also, see travisedmonson.com